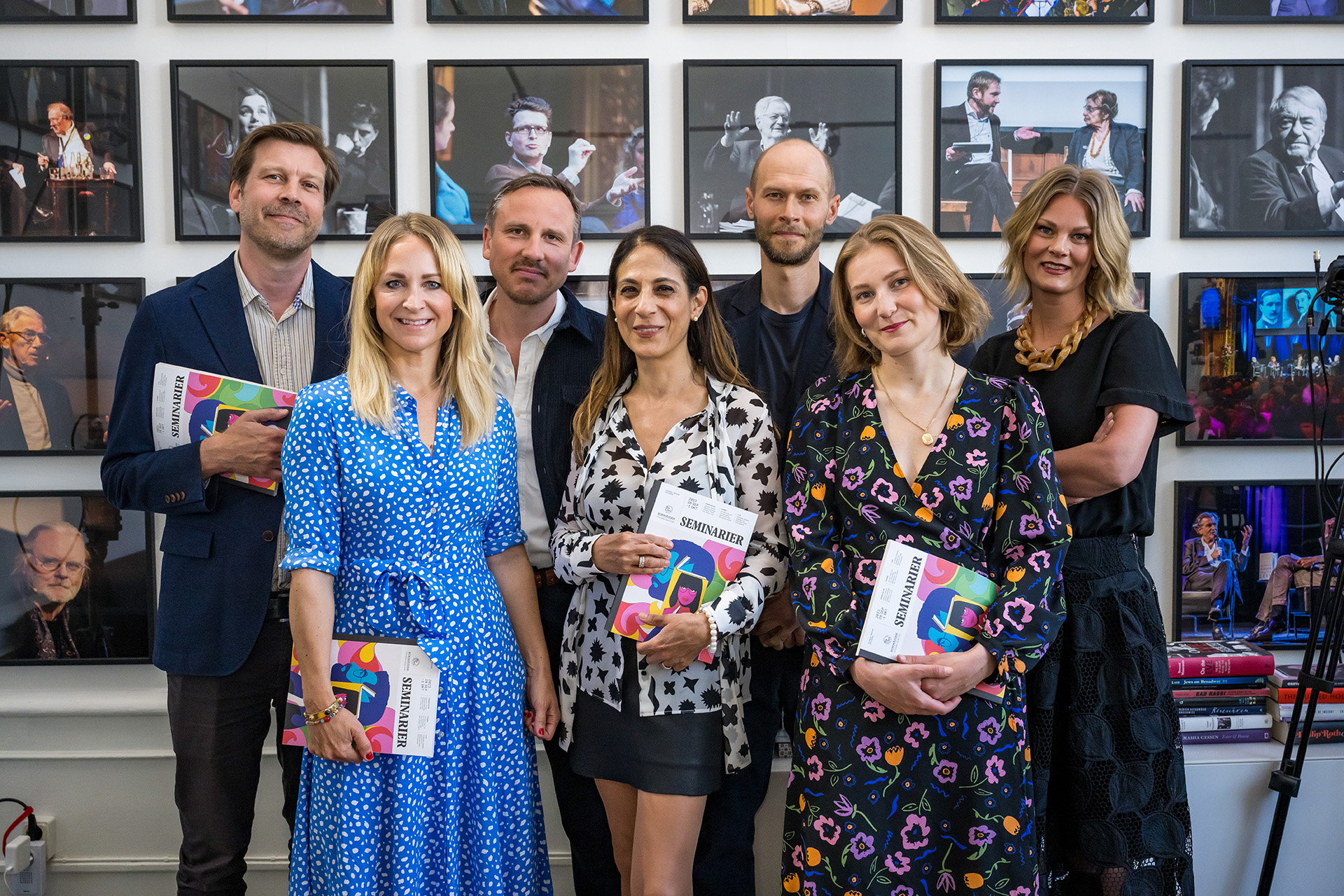 In a dual appearance on the west and east coast of Sweden, last week saw Gothenburg Book Fair launch its programme of seminars to be held during the event, which runs from 28 September to 1 October. The seminar programme reflects our present day: crisis, war and the economy all feature alongside future issues such as AI and audio. The 2023 themes of Jewish Culture, The City and Audio all make their mark on the 39th edition of the event, in addition to literacy initiatives focusing on children and young people.
The seminar programme for this year's instalment of the Gothenburg Book Fair will be announced at a press conference hosted by the cultural institution Jewish Culture in Sweden – it includes 325 unique conversations, interviews, debates, and lectures on a wide range of subjects. 828 prominent authors, researchers, opinion-shapers and pundits will participate in the programme, including 118 international guests from a total of 38 different countries. The programme has been curated by the Book Fair's specialists and will take place in the slightly more peaceful surroundings of level two at Gothenburg's Swedish Exhibition and Congress Centre.
"In a world that is constantly changing and developing, we have sifted through some 1,000 proposals submitted by publishers, organisations and institutions to create 325 uniquely composed conversations and discussions that reflect the most searing issues of the present day. The programme will platform a variety of voices and will allow new perspectives to thrive. As ever, the Book Fair's focus is shaped by our themes for the year. "We look forward to offering an incredible seminar programme," says Oskar Ekström, Programme Director at the Gothenburg Book Fair.
This year's Book Fair features three themes: Jewish Culture, The City, and Audio – each brings with it a cluster of superb seminars that exemplify their respective issues. The programme also incorporates seminars on spiritual writing, audio narration, mortal sins, literary canon, reading during war and disasters, friendship and kindness, Swedish gangster rap, teenage book clubs, cultural policy at arm's length, Russia, authors and publishers in new formats, the role of drama in the new listening landscape, male role models, Nordic dystopias, and the question of Somalitowns. Elsewhere in the programme, issues dealt with include being an elephant in Sweden, the aging body, the community of exclusion, big stories and cute sounds, grief, silence, ugly emotions, and a report from the Gothenburg underworld. And of course much, much more.
Spotlight on Jewish culture with Jewish Culture in Sweden as Guest of Honour
Aspects of Jewish history, literature and philosophy will be highlighted across a total of 36 seminars. These seminars are part of the Jewish Culture theme and will present Jewish culture from the Bible to the present day. The emphasis will be on the universal aspects of Jewish culture as they are expressed in the modern day. The theme is being programmed in partnership with the cultural body Jewish Culture in Sweden, which is this year's Guest of Honour at the Gothenburg Book Fair and is marking its tenth anniversary.
"We have an extensive programme featuring both international and Swedish guests, and we hope to provide a range of insights into the multifaceted Jewish culture and its rich literary tradition," says Lizzie Oved Scheja, Director of Jewish Culture in Sweden.
Guests featuring in the Jewish Culture theme include Daniel Libeskind, Eva Illouz, Bernhard-Henri Lévy, Judy Gold, Hila Blum, Haya Molcho, Adam Gopnik, Simon Schama, Joshua Cohen, Judy Batalion, and Georg Riedel.